A company profile is created only once. To create your company profile, follow the suggested options on VOLUM3 Homepage. If your company profile is already registered, simply follow the instructions to Join the existing company.
 
All user profiles (employees of the company) have to be connected to their company profile (employment company).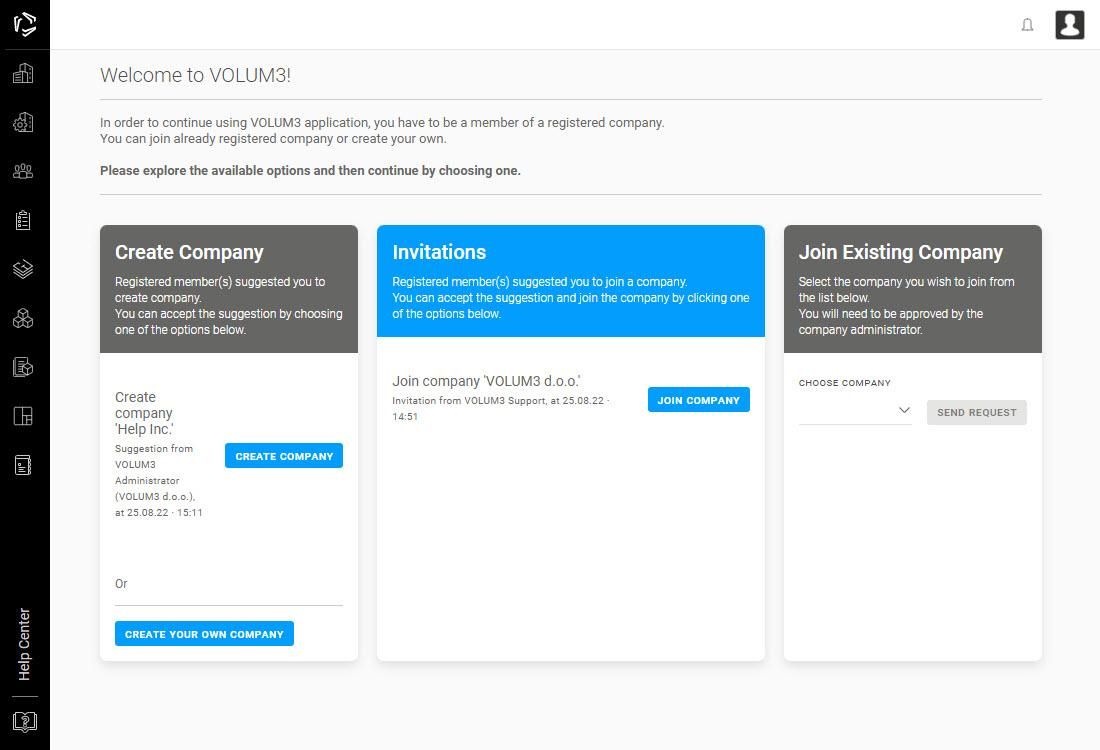 Options:
Create company  
A registered VOLUM3 user suggests that you create a company profile. The user also suggested how your company should be called on VOLUM3. If you agree with this suggestion, select Create company and enter other necessary information to complete the company profile.
Invitations
A registered VOLUM3 user has sent an invitation to your e-mail address. The invitation contains a proposal to join his company, assuming that you are also an employee of that company. By selecting the Join company option, your user profile will be connected to the offered company.
Join existing company
If your company has already been successfully registered on VOLUM3, use the Search option to find and select the company from the drop-down menu and click on the Send request option. The owner of the company's profile or the company administrator will receive a notification and will decide whether to accept or reject your request to join the company.
Create your own company
When a company profile hasn't been registered yet, you will be the first to create one. At this moment, it is only necessary to fill in the company information available to public data and you don't have to be an actual owner of the company. Your user profile will have owner and/or administrator rights, which you can later edit, and add new members with specific company roles.
To sum up, if there is no active suggestion to create a company with the suggested company name, if no invitation has been received, or if you don't want to join a registered company, select Create your own company option and continue entering the necessary data.